Insta Creep: Have Love Island Winners Jack And Dani Broken Up For Real This Time?
What all the celebs are up to on social, from A to Z listers.
In our gossip column, we indulge our nosiest desires and delve deep into what the celebs (and 'celebs') are doing on social media. Who's tweeting and deleting? Who's shady faving? Let's find out.
Well. Love Island winners Dani Dyer and Jack Fincham have announced that they have broken up… for the second time.
The first time, as you may remember, came before Christmas – Dani told the world that the relationship was no more, before revealing that they were actually still together, and she was just feeling petty after a fight.
This time, Jack announced the news on Instagram via Notes App, as is the celebrity custom:
There is no easy way to say this and it isn't going to be an easy time but me and Dani are not in a relationship anymore. We will always care a lot for each other and have love for each other and I mean that from the bottom of my heart and I wish her nothing but happiness.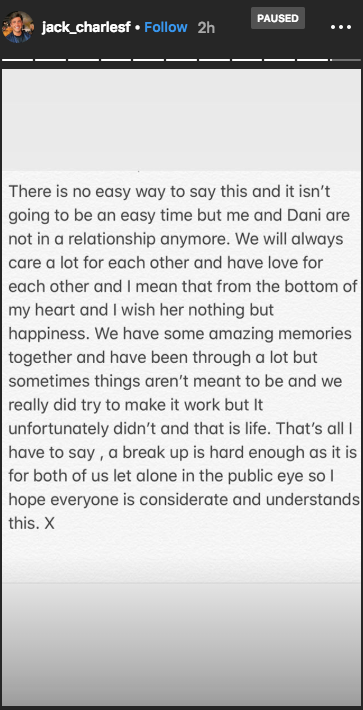 "We have some amazing memories together and have been through a lot but sometimes things aren't meant to be and we really did try to make it work but it unfortunately didn't and that's life," he continued. "A break up is hard enough as it is for both of us let alone in the public eye, so I hope everyone is considerate and understands this."
Jack didn't seem to be at Dani's book launch earlier this week, and both have turned off the comments on their Instagram posts.
We're not really sure what to believe, since Jack has deleted the breakup announcement, just as Dani did shortly after posting HER announcement in December. Is it actually the end? We need some clarity.
Britney Spears has posted about taking time for 'me time' after checking into a mental health facility.
In January, the singer announced that her new Las Vegas show would be postponed so she could care for her dad, Jamie, who was due to have major surgeries on his intestines and colon.
According to TMZ, Britney is 'distraught' over her dad's illness, and has checked into a facility for 30 days to get the help she needs. Reassuring fans on Instagram, she posted:
"We all need to take time for a little 'me time'." Poor Britney. It's one thing after the other for her. Get well soon, Jamie.
Charlotte Crosby unleashed pure cold fury on a Twitter user who said she was only famous for "being bucked on telly".
The man was responding to a tweet from the former Geordie Shore cast member calling Sunderland a 'dive' after a recent stabbing incident in the area, and decided to go straight for the sexism and slut shaming, as these people often do.
But Charlotte reminded him she was doing pretty well for herself out of "being bucked on the telly":
Actually when I get bored of using the money I think I'll jump in my Bentley and let down the roof down and just let the wind dry my eyes. And then after that ill stroll back onto my drive and look up at my mansion and think of only Liam liked me ?

— Charlotte Crosby (@Charlottegshore) April 3, 2019
He quickly deleted the tweets and put his account on private, which… is probably for the best, considering Charlotte's followers were on his case after that.
Despite all this, she said she didn't feel angry at people who came for her on Twitter, but 'pity':
Is it normal to feel genuine Pitty for people who go so low to tear you apart on social media? Because I do I genuinely feel no other emotion but pure pitty. Poor poor souls.#PrayForTheTrolls

— Charlotte Crosby (@Charlottegshore) April 3, 2019
Drama drama drama.
And now it's time for… #WilloughbyWatch
Charting the public's obsession with what Holly Willoughby is wearing.
Look at this cute little spring dream! Holly presented This Morning this morning in a dress from Oasis – it's on sale, but completely sold out in most sizes. She has to stop doing this to us.
The outfit has gone down well, but most people are more concerned with her pose. "You need the bathroom?" asks one commenter. "Looks like you need piss," said another. Charming folk.
Have your say
More like this