Insta Creep: Here's An Excellent Video Of Niall Horan And Lewis Capaldi Dancing On A Bar At A Grammys Afterparty…
What all the celebs are up to on social, from A to Z listers.
In our gossip column, we indulge our nosiest desires and delve deep into what the celebs (and 'celebs') are doing on social media. Who's tweeting and deleting? Who's shady faving? Let's find out.
Niall Horan dragged Lewis Capaldi up on a bar at a Grammys afterparty to sing along to his song Someone You Loved. Oh and Shawn Mendes and Camila Cabello, too!
We always knew Niall would be good craic on a night out, but now we have physical proof. Who else could persuade a group pop stars to let loose?
Shawn, Camila @LewisCapaldi and @NiallOfficial jamming to Someone You Loved #GRAMMYs

— January 27, 2020 pic.twitter.com/FQa1jovS0m

— Shawn & Camila HQ (@ShawmilaHQ) January 27, 2020
Here is Niall kissing Lewis as Mr Brightside plays, which is probably the most #ladsladslads sentence we've ever written:
Shawn and Camila jamming to Mr. Brightside with @LewisCapaldi and @NiallOfficial #GRAMMYs 

— January 27, 2020 pic.twitter.com/UaXShIsIX8

— Shawn & Camila HQ (@ShawmilaHQ) January 27, 2020
Unfortunately, Niall was nowhere to be seen when the DJ put on One Direction's Steal My Girl, which is an enormous shame. Camila, Lewis and Shawn enjoyed it though!
Do we wish we got an invite to this party? Yes, 100%. Do we want Niall to take us out on the town in Dublin? 2000%.
Lana Del Rey, meanwhile, bought her Grammys dress at the mall shortly before the show.
Walking the red carpet with her boyfriend Sean Larkin, she told Entertainment Tonight that in the words of Ariana Grande, she saw it, she liked it, she wanted it, she got it:
Lana bought her dress at the MALL yes we are obsessed pic.twitter.com/SGpPxBUhEn

— James Harness (@JamesHarness) January 27, 2020
This woman is a literal Gucci muse but still goes into a shopping centre and buys a dress off the rack because she likes it. A queen.
Selena Gomez shouted out her former BFF Demi Lovato after the latter's emotional Grammys performance.
You may remember that Demi and Selena were practically joined at the hip during the glory days of the Disney Channel, but drifted apart in the early 2010s (possibly due to Selena getting closer to Taylor Swift – this video seems to indicate it was a sore spot for Demi).
However, there's still some love there, as Selena paid tribute to her old pal after she poured her heart out at the Grammys:
I wish there were words to describe how beautiful, inspirational and DESERVED this moment was. Demi I'm so happy for you. Thank you for your courage and bravery.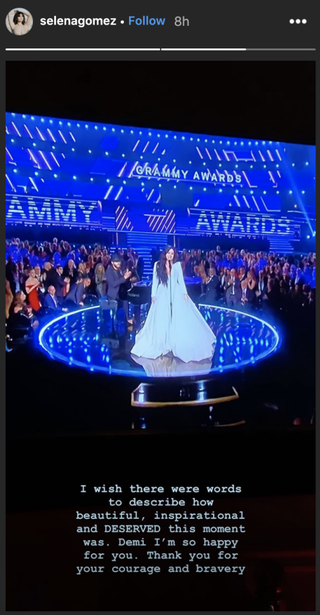 Isn't that nice? Both of these gals have been through it in recent years – maybe it's time to rekindle the friendship.
And finally, Holly Willoughby is reminiscing on how her style has changed over the years. 
The National Television Awards are on tonight, and to celebrate, the This Morning team created a collage of all of Holly's looks over the years (except for 2012, when she had just given birth).
"Nearly a decade and a half of frocks… mad how much we change," she said.
Holly has embraced the lighter side of the colour spectrum in recent years, that's for sure. And thankfully is no longer wearing cap-sleeved dresses (2007) and bustiers (2005). Listen, we all have to learn somehow.
Have your say
More like this