Insta Creep: Jack And Dani Are Back Nattering Like An Old Married Couple On Instagram, Thank God…
What all the celebs are up to on social, from A to Z listers.
In our gossip column, we indulge our nosiest desires and delve deep into what the celebs (and 'celebs') are doing on social media. Who's tweeting and deleting? Who's shady faving? Let's find out.
Jack and Dani are valiantly attempting to put that momentary breakup behind them. 
We have to laugh at this stage – imagine if you were 22, had 3.4m followers (as Dani does) and had a fight with your boyfriend? You'd probably do the same. Explaining her dramatic statement to a fan on Instagram, she said:
I'm just a normal nutty girl who can be a bit crazy and irrational but what girl isn't! People need to understand I'm still learning. I'm not living my life to please people.
The pair were back on Insta Stories last night nattering away like a couple married for 50 years – Jack jokingly thanked Dani for buying a creepy white Elf On The Shelf for their flat, and asks her how she likes the dinner he made:
Lovely. I won't be getting Tesco chicken again let me tell you.
Ah we just love them, and now we can look forward to the Love Island Christmas special on December 17 without feeling a bit sad. Don't scare us like that again!
50 Cent is out here begging Cardi B not to divorce Offset. Ah here, leave it out.
Cardi posted on Instagram teasing the video for her single Money while sporting the longest acrylic nails we've ever seen, and an outfit made out of gold watches:
50 Cent is happy for her and all, but really he's more concerned about her "going home" to her estranged husband.
That's a cute outfit. But you gotta go home that boy love you girl

No divorce, OK chill out
Cool Fiddy, whatever you say. We're sure Cardi's going to see that and be like OH NO 50 CENT THINKS I SHOULDN'T DIVORCE MY (ALLEGEDLY) CHEATING HUSBAND, BETTER NOT.
.@IamCardiB teases the "Money" music video on Instagram, @50Cent comments telling her to go back to @OffsetYRN. pic.twitter.com/LIZt5HKUuI

— Pop Crave (@PopCrave) December 11, 2018
You do what you need to do Cardi and don't mind him, as Irish mams would say.
Kendall Jenner revealed who her secret admirer was… and it's not Harry Styles.
The internet was up in arms yesterday trying to prove that the handwriting from this love letter Kendall received was/was not Harry (whom Kenny dated in the past).
She put everyone out of her misery by uncensoring the name to show that it was from 'M&M' or the photographers Mert Alas and Mac Piggott.
Didn't we tell you it was going to be a prop from a photoshoot? Now for you.
Taylor Swift very quietly supported boyfriend Joe Alwyn at the London premiere of his latest film, Mary Queen of Scots (yep, Saoirse Ronan's new movie). 
She didn't walk the red carpet or appear in any official photos from inside the venue, but actress Izuka Hoyle shared a photo of herself chatting to Taylor in the lobby, glass of wine firmly in hand: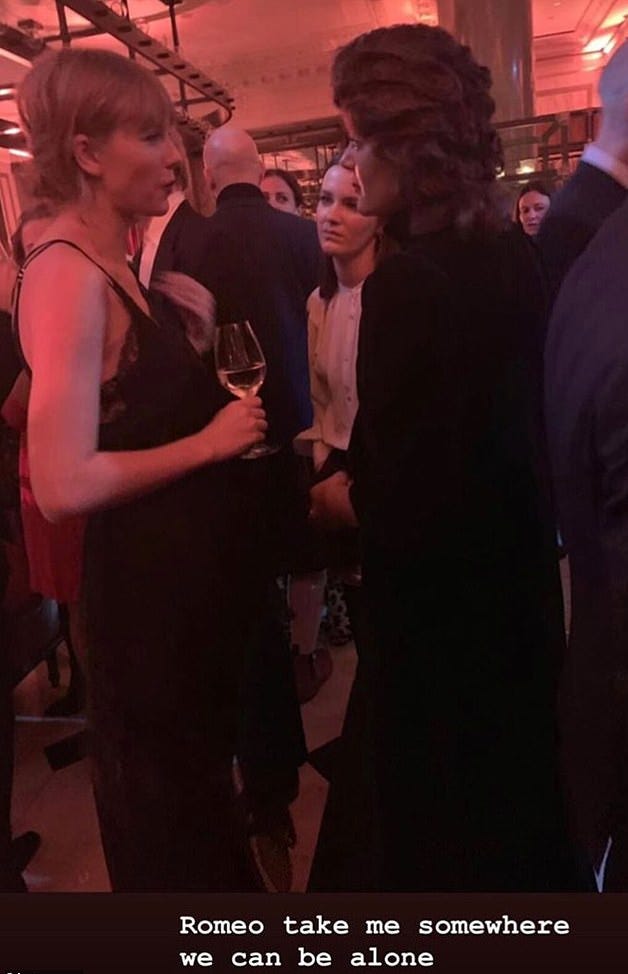 "Romeo take me somewhere we can be alone" – that caption. We like Izuka already.
According to The Sun, Taylor doesn't want to distract from Joe's achievements by showing up and making a fuss:
She did want to support him and knew he would appreciate her being there, so she took steps to try and prevent anyone knowing she was there. It worked in the dark of the cinema but by the time they made it to the party afterwards her cover was blown.
We wonder if her and Saoirse got to chat? WHAT DID THEY TALK ABOUT.
Have your say
More like this
INSTAGRAM
This error message is only visible to WordPress admins
Error: API requests are being delayed for this account. New posts will not be retrieved.
Log in as an administrator and view the Instagram Feed settings page for more details.
Latest News
Dixie D'Amelio Reveals What It's Like Living With Premenstrual Dysmorphic Disorder