Insta Creep: James Corden Doesn't Actually Drive The Car For Carpool Karaoke, And People Are Shook…
What all the celebs are up to on social, from A to Z listers.
In our gossip column, we indulge our nosiest desires and delve deep into what the celebs (and 'celebs') are doing on social media. Who's tweeting and deleting? Who's shady faving? Let's find out.
OK, maybe we need to rethink everything we thought we knew about Ollie Williams' departure from Love Island.
The heir left under dubious circumstances after three days in the villa – and while he said it was because he was still in love with his ex, some viewers suspected his exit had something to do with the photos of him trophy hunting that had emerged on Twitter.
HOWEVER. We must eat our words, as the ex-girlfriend has been produced and marriage is now being discussed:
Ollie confirmed his reconciliation with Laura Nofer with a photoshoot for The Sun (pure class), and made it clear that the relationship is serious.
"I now realise that Laura is the girl I want to marry," he said. "I'm so grateful she has taken me back. We're going to move in together in London over the next few months. I can't wait to start a life with her."
There you go, then. We'll have to buy a hat.
James Corden isn't actually driving the car during Carpool Karaoke and for some reason people are surprised by this?
An LA dweller spotted James and his latest guest Justin Bieber filming the segment in an SUV that was being dragged around by another truck:
Saw James corden and Justin Bieber filming carpool karaoke and this is why I have trust issues — he isn't even driving! pic.twitter.com/bkP9moGJmu

— Zoli ⚡️ (@zolihonig) January 23, 2020
Lies, lies and more lies from this toxic industry. How will we go on knowing the truth?
However, some replies to the tweet suggest that James did actually drive the car in the early days of Carpool Karaoke – but now CBS seem to be more concerned about health and safety. Probably right.
Reacting to the kerfuffle, James posted a photo of him and Samuel L Jackson filming a Pulp Fiction spoof, joking: "Guys, we don't even use a real car."
guys, we don't even use a real car pic.twitter.com/O0sxMwNFtP

— The Late Late Show with James Corden (@latelateshow) January 23, 2020
There's no end to Hollywood smoke and mirrors. For shame.
Halsey got mad about a bad review, and accidentally wished that the World Trade Centre would collapse. We'll add context, don't worry.
The music website Pitchfork released a snarky review of Halsey's new album Manic (which is kind of their whole thing) – and the singer responded with this quip: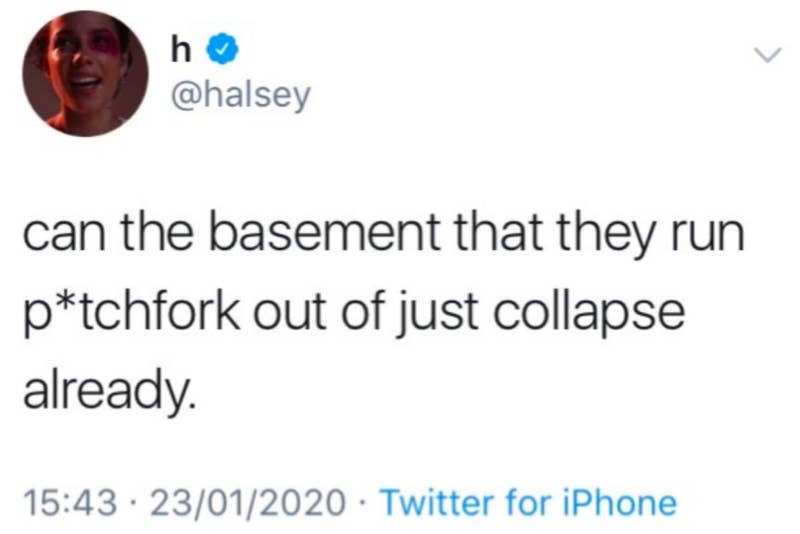 The thing is… Pitchfork is owned by Condé Nast, and as such, runs out of the One World Trade Centre in New York. Which as you probably know, was built after the Twin Towers collapsed on 9/11. Yikesyikesyikesyikesyikes.
Halsey deleted the tweet and clarified that she "intended zero harm" but was just trying to make a simple joke about her critics dying in a terrible accident:

There's a lesson in this: Never tweet. But especially, never tweet jokes about buildings collapsing.
And now it's time for… #FBF
The best celebrity throwback photos of the week.
Friends is getting kind of like Harry Potter now – the cast are adding little bits to the lore of the show via social media, much like JK Rowling has basically been re-telling Harry's story to us over Twitter. Last night, Courteney Cox shared this cute photo of the gang having their 'last supper' before filming the last episode in 2004. Tins of Coke, chips, lobster (maybe?), triangle sandwiches (also maybe)… a slap up meal.
Have your say
More like this