Insta Creep: Kerry Katona Is Upset She Wasn't Invited To Atomic Kitten's 20th Anniversary Gig…
What all the celebs are up to on social, from A to Z listers.
In our gossip column, we indulge our nosiest desires and delve deep into what the celebs (and 'celebs') are doing on social media. Who's tweeting and deleting? Who's shady faving? Let's find out.
Rihanna posted a series of selfies yesterday of her lounging in the sun, looking like an absolute goddess AS PER.
What fans noticed though was not her arse, but what looked like stretch marks on the arse. Was Rihanna getting her tiger stripes out? Is she human after all? Er… no, but all is not lost: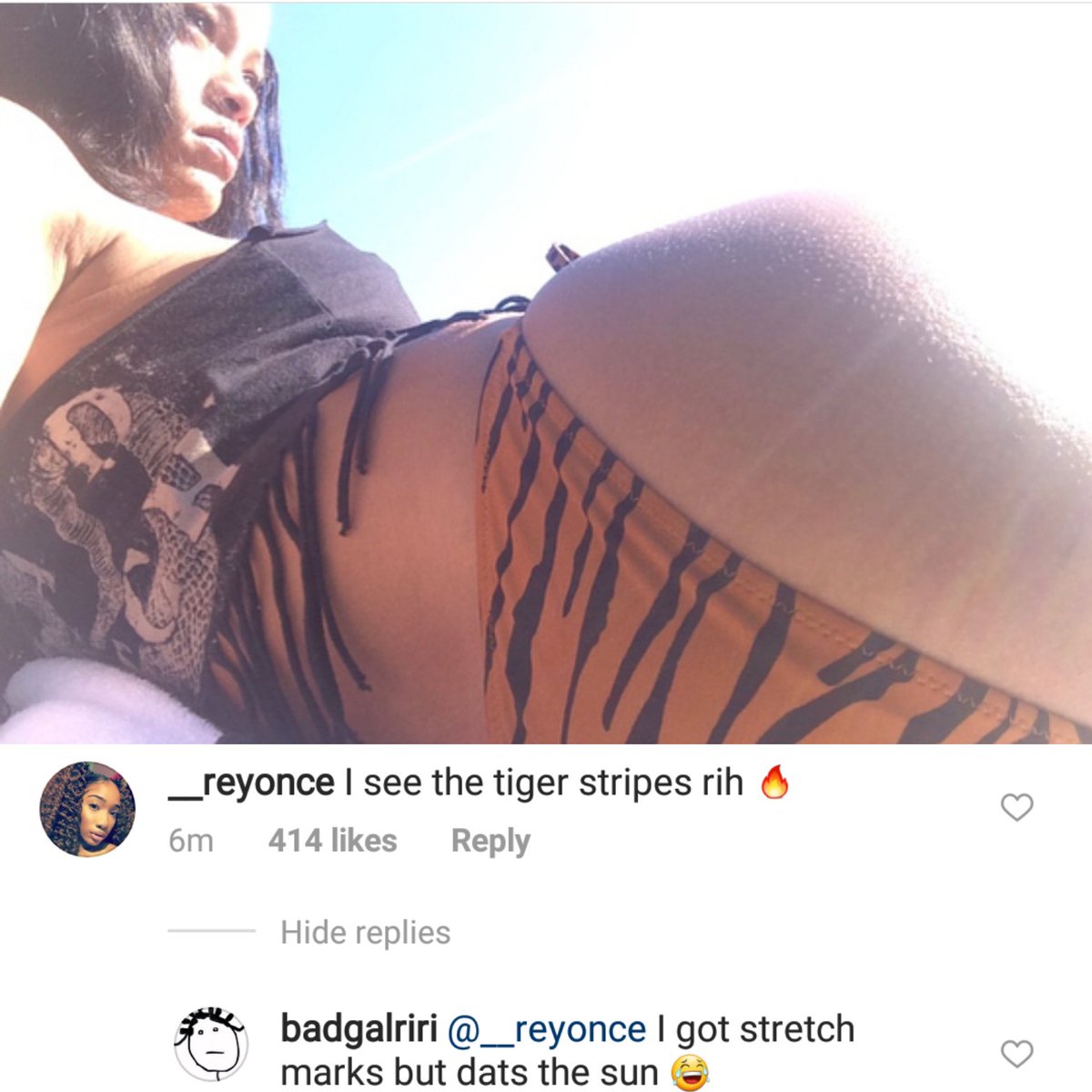 Makes sense. But thanks for reassuring us that you do have some anyway.
Blake Lively is back on Instagram after deleting everything except for a creepy message.
In case you missed it, there was concern earlier this week after Blake got rid of all her pictures, changed her bio to "What happened to Emily?" and unfollowed everyone bar women called Emily (even husband Ryan Reynolds).
It became clear pretty quickly that it was all a marketing effort for her new film A Simple Favour, in which she plays a character called Emily – and that was confirmed last night when she put up the trailer for the film.
Just once we wish we got an actual celebrity mystery and not a viral marketing campaign. Just ONCE.
Rob Kardashian is teasing a 'big transformation' that is coming soon. A revamped sock line?
Oh, he means image-wise. This photo is from an event in Las Vegas two years ago – he says he's '#putinwork' since then, and will be unveiling his transformation very soon.
Rob is notoriously the most camera-shy Kardashian, and a source told HollywoodLife that he's sick of his family bugging him to lose weight:
He hopes his family doesn't bug him and he's looking forward to doing it by himself to prove everyone wrong and be the Rob he always has wanted to be.
Kerry Katona is upset that she hasn't been invited to an Atomic Kitten 20th anniversary gig. And rightly so. She's a founding member! And her spoken word bit in Whole Again is iconic.
The girls are celebrating 20 years in the biz with a charity show, and it seems that just Natasha Hamilton and Liz McClarnon are involved.
Kerry is taking it pretty bad that she wasn't invited:
Atomic Kitten celebrating their 20th anniversary and I've not been invited! I'm sooooo upset! Absolutely gutted a founder member is not allowed to go to her own band and the girls didn't want me there! And I still don't know what it is I've done to upset them so much! Oh well… hope you have a great anniversary @natashahamilton @lizmclarnon. Stay blessed ladies xxx
Kerry left the group in 2001 and was replaced by Jenny Frost – she rejoined for The Big Reunion in 2012, and left again last year. Maybe they're just not sure if you actually want to be in Atomic Kitten, Kerry?
And now it's time for… #WilloughbyWatch
Welcome to Insta Creep's regular segment #WilloughbyWatch, in which we explore the public's obsession with what Holly Willoughby wears on This Morning.
Aw, look at this cute little green dress. There are no complaints to register today – the gúna is £115 so not too expensive to attract the angry cheapskates, and long enough to satisfy the finger-waggers. She's even being compared to fellow stylish blonde Amy Huberman. Congrats Holly, you've done it.
Have your say
More like this