Insta Creep: Kris Jenner Got The Shite Scared Out Of Her By Ellen DeGeneres…
What all the celebs are up to on social, from A to Z listers.
In our gossip column, we indulge our nosiest desires and delve deep into what the celebs (and 'celebs') are doing on social media. Who's tweeting and deleting? Who's shady faving? Let's find out.
Kris Jenner is the latest celebrity to get frightened by Ellen DeGeneres and honestly, it's just too good.
Kris was innocently walking backstage at The Ellen Show when someone dressed as Regan from The Exorcist leapt out of a box and screamed at her:
When she just keeps walking into the cart! Her boyfriend Corey Gamble was on hand to pick her up, thank god – watch it again and focus on him this time, because he does not. Even. Flinch. So good.
Hello, half of Jennifer Lopez's naked body!
We genuinely had to look twice at this photo because at first it seemed that she was at some kind of event and like, walking around and talking to people with her arse fully out, but thankfully, it's a photoshoot for the magazine InStyle.
Though we wouldn't put it past her to wear nothing but a Valentino cape (with strategically placed illusion netting) to a red carpet do, in fairness.
Body be bangin', of course. In the accompanying interview, she reflects on being one of the 'forerunners' in embracing curvier body types:
I didn't realise what I was doing — I was just being myself. In my family, curves were glorified and part of the culture. It was just like, 'Jennifer has a big butt, and it's good.'
Good for you Jen. The rest of us will continue being just mere mortals.
Ariana Grande has covered up one of the many, many matching tattoos she got with her now-ex Pete Davidson.
She and Pete both had the word 'reborn' tattooed, with Ari's inked quite noticeably on her left thumb. However, a video of her clinking glasses with friends on her Instagram Story reveals it's been replaced with what looks like a sprig of lavender: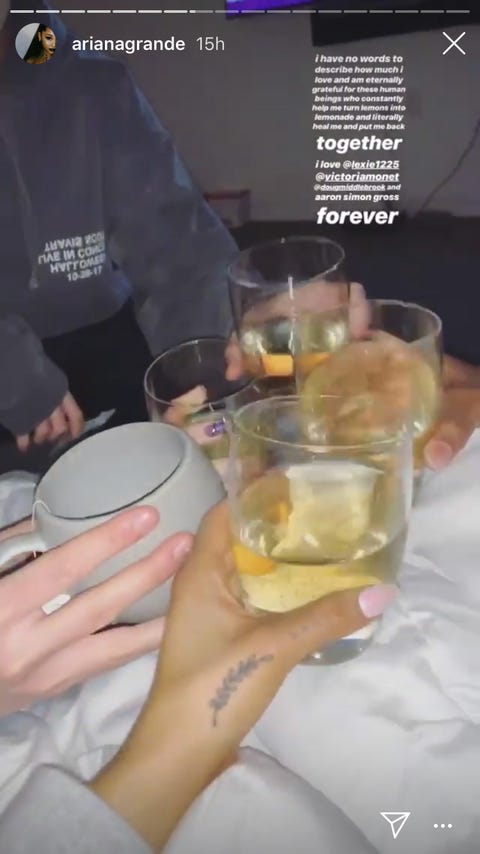 "I have no words to describe how much I love and am eternally grateful for these human beings who constantly help me turn lemons into lemonade and literally heal me and put me back together," she wrote.
Ariana previously covered up her 'Pete' finger tattoo with a plaster, but it's unclear what she's going to do with the rest of them, which include an inking of his late father's firefighter badge number on her ankle. It's as good a reminder as any to think before you ink.
And now it's time for… #SponConCorner
*Spon con = sponsored content. Who's flogging what and why?
Lindsay Lohan used Halloween to promote Lawyer.com with some Mean Girls nostalgia. Yep, she's still doing that. Don't cheapen the legacy of your most iconic role this way, LiLo!
Have your say
More like this