Insta Creep: Liam Payne Has Hit Back At Rumours That His GF Was Underage When They Met…
What all the celebs are up to on social, from A to Z listers.
In our gossip column, we indulge our nosiest desires and delve deep into what the celebs (and 'celebs') are doing on social media. Who's tweeting and deleting? Who's shady faving? Let's find out.
Liam Payne has responded to rumours about his girlfriend's age. 
The former One Directioner has been dating Texas-born model Maya Henry for a couple of months now, but fans are digging out some inconsistencies when it comes to birth date.
She's been reported as being 19, however the site Famous Birthdays had her down as being born in 2001, which if correct would make her 18 – and therefore 17 when they first started going out last year.
Liam says it's not true, telling fans not to believe "everything you read on the internet":
19 don't believe everything you read on the internet 🙄

— Liam (@LiamPayne) November 6, 2019
Famous Birthdays has now changed Maya's birth year to 2000. Either way, Liam's still a 26-year-old going out with a teenager, so there's that.
Shay Mitchell has revealed her daughter's unusual name in a sweet Instagram post. 
The actress gave birth just over a month ago, but has shared only snippets of her new life as a mom until yesterday, when she has released the first photos of the baby – as well as her name: Atlas Noa.
"In my 32 years of life I thought I had seen a lot of places, experienced a lot of things, met a lot of people and felt love… then came you," Shay wrote.
Truth is I had no idea I was capable of loving anything like this before you arrived… I wake up each day (and also every 2-3 hours) still in awe that you are mine, and I am yours. Whatever you choose to do in this world, whoever you choose to love, wherever you choose to go, I will always be your biggest fan.
N'yaww. The name was inspired by Shay's love of travel, but speaking to Vogue, she admitted that she actually pinched it from a friend's list of potential baby names: "It's just the perfect name; from that day, we knew it was going to be Atlas."
Little Mix's Perrie Edwards is perhaps engaged to her footballer boyfriend (though she doesn't know how to spell his name). 
Perrie gave her BF Alex Oxlade-Chamberlain a little shout out on Insta yesterday for scoring the winning goal in his team's football match, writing what is presumably a football chant: "You to me are everything my Alex Oxlade-Chamberlaine OH BABY OH BABEHHH!"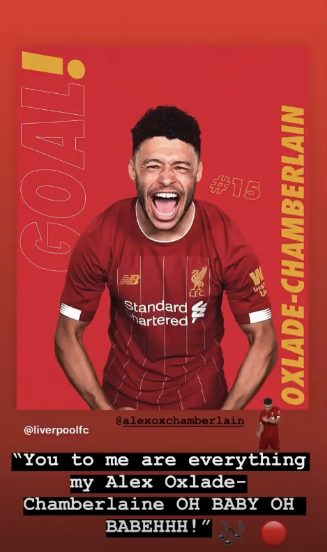 Alex messaged her to be like "Eh it's Chamberlain" and she posted a correction, along with a mighty hint:
It'll be way easier to spell when it's my second name and I have to write it all the time.
Eh? Does this mean that Alex has put a ring on it? More info needed, Perrie!
And now it's time for… #WilloughbyWatch
Charting the public's obsession with what Holly Willoughby is wearing.
This morning on This Morning, Holly is wearing a red leather mini dress by Whistles, which is a mere €495. Pocket change! Her female followers are as usual up in arms over the price, while her male followers can't believe their luck. Leather AND bare legs? It's like Christmas for them. "That's more like it!" writes one. Go speak to your wife, sir.
Have your say
More like this