Insta Creep: Lily Allen And Stranger Things' David Harbour Have Made Their Romance Insta-Official…
What all the celebs are up to on social, from A to Z listers.
In our gossip column, we indulge our nosiest desires and delve deep into what the celebs (and 'celebs') are doing on social media. Who's tweeting and deleting? Who's shady faving? Let's find out.
Lily Allen and David Harbour have made things Insta-official. 
Well, Lily did share a photo of the Stranger Things actor's bicep that time he was on Saturday Night Live, but this is a bit more than that.
The pair took Lily's daughters on a trip to Florida that included stops at Disneyland and the Kennedy Space Centre – and it looks like they really got into the spirit of things:
Lily and David have been on a bit of a PDA tour since confirming their relationship earlier this month, snogging all over New York and walking the red carpet together at a swanky gala. We still don't know how they met and it's the information we crave. Spill, guys.
Selena Gomez put up a Story lauding Kim Kardashian's shapewear range, then deleted it after blowback from Swifties.
Selena is close friends with Taylor Swift, who is famously not a fan of Kim or her husband Kanye West – so when Selena posted a photo calling Kim's Skims 'so freaking comfortable', fans accused her of the most dastardly betrayal.
Yes it's dramatic, but you know how dramatic Swift fans are: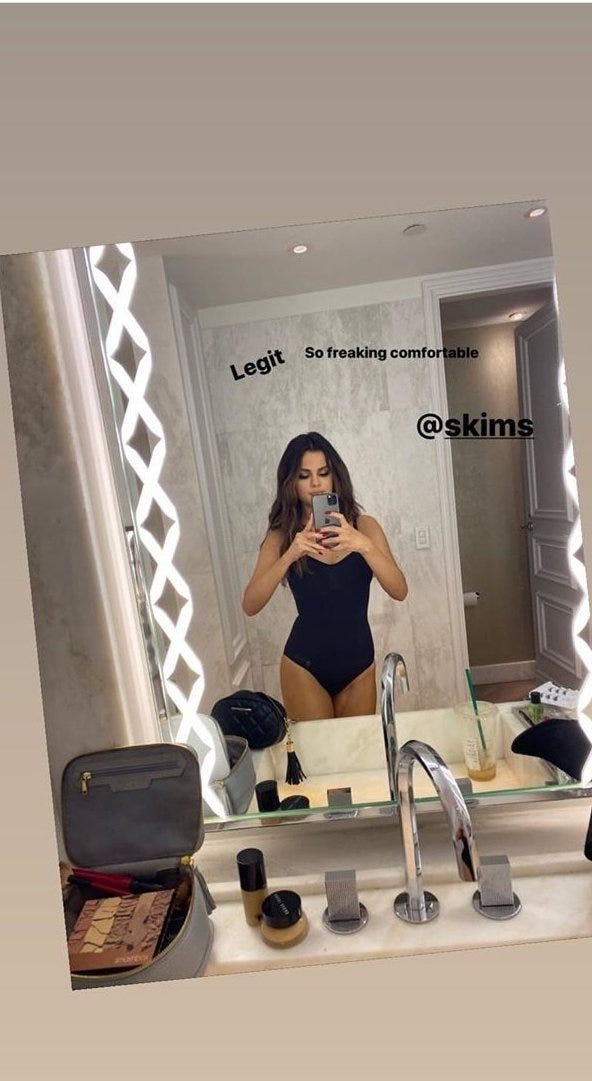 A few hours later, the photo disappeared, and a picture of Selena and Taylor went up instead with the caption:
My ride or die. I would die for this one. Thank you for forever being by my side. You have taught me so much, walked through all of this with me, STAYED and you remind me to be a better human being. I'm on your side for life.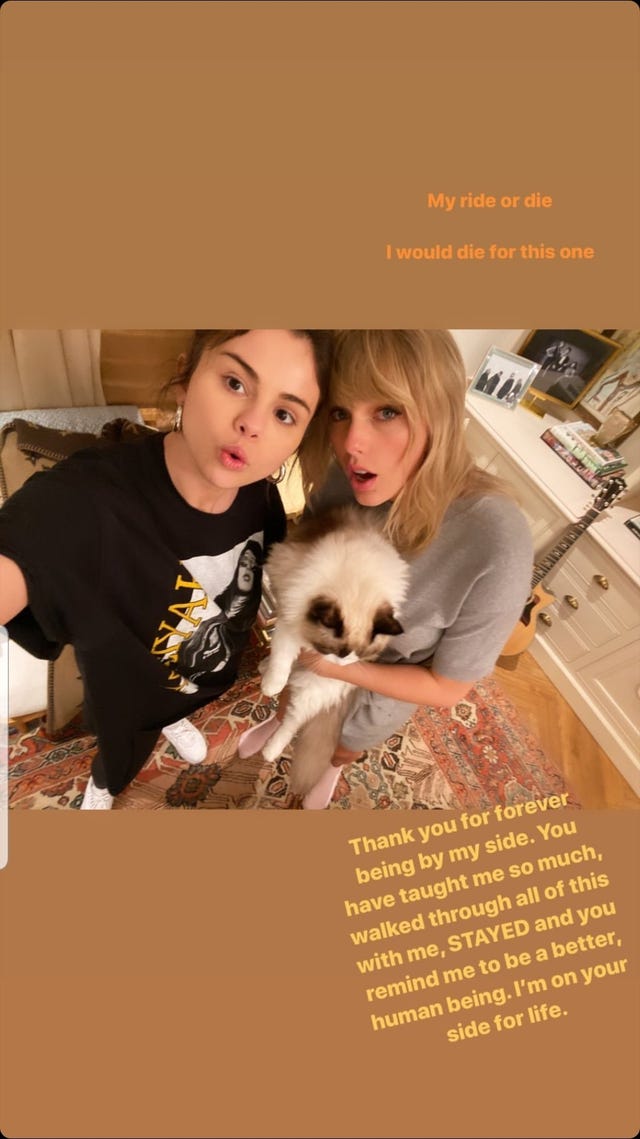 If this wasn't posted expressly to appease Swift's raging fanbase, we'll eat our hats. But they'll never learn boundaries if you keep caving to their demands! Wear your Skims, Selena. It's fine.
Great British Bake Off fans think Michael and Henry are dating now and we're just so tired. 
For pretty much the whole series, tie-wearing church organist Henry was thought to be dating finalist Alice – but now she's shared a pic of him and Michael cuddling and baking:
This picture of Michael and Henry warms my heart!#GBBO #BakeOff pic.twitter.com/VYSmrwrI3G

— Matt Sole (@matt_sole) October 27, 2019
In light of this, people are now reconsidering this photo of Alice, Henry, Michael and David shared earlier on in the competition – could the 'couple' have been Henry and Michael all this time?
We just wanted to watch them bake and now we're deeply invested in their lives. GBBO, what have you done.
And now it's time for… #WilloughbyWatch
Charting the public's obsession with what Holly Willoughby is wearing.
We do love when Hol gets super glammed up – and for the Pride of Britain Awards last night, she wore a gown by luxury designer Safiyaa. It's truly gorgeous, and her many followers are in agreement about that for once.
This morning she went right back to basics with trousers and a jumper – and we're going to be honest, it looks like she's about to go in for her shift as a cashier at the bank. Those trouser pleats… no thank you. Strangely, her followers are extremely pleased with this look, calling it "elegant". Another reminder not to trust their taste levels.
Have your say
More like this