Insta Creep: Shay Mitchell Hit Back At Accusations That She 'Abandoned' Her Baby To Party With Drake…
What all the celebs are up to on social, from A to Z listers.
In our gossip column, we indulge our nosiest desires and delve deep into what the celebs (and 'celebs') are doing on social media. Who's tweeting and deleting? Who's shady faving? Let's find out.
Ariana Grande went hard for Halloween and you simply have to respect it.
Her costume is not a reference to Miss Piggy, as many thought at first, but an homage to a 1959 episode of the TV show The Twilight Zone.
In Eye of the Beholder, a young woman has several surgeries in order to 'look normal' – when her bandages are removed, the viewers see that she's conventionally beautiful to us viewers, but deemed ugly in her universe.
The woman is sent away to live with other 'ugly' people like her, and told that "beauty is in the eye of the beholder":
The episode asks the viewer to question beauty standards – something Ariana is surely referencing with her costume.
Honestly, in a world of celebrity costumes designed to maximise the wearer's already apparent hotness, this is super refreshing.
Shay Mitchell has hit back at the people who accused her of 'abandoning' her newborn to go to Drake's birthday party.
The actress announced the birth of her baby girl on October 20 – and a few days later, she joined the throng of celebs at Drake's bash.
This earned her a flood of judgemental comments from people who were absolutely DISGUSTED that she hasn't been glued to her baby at all times.
To her credit, Shay was unfazed – in a now deleted Instagram Story of her scrolling through the comments, she quipped: "Apparently people are really upset that I left three days after having a kid to go out and party. It wasn't three days and I left her with Angel, so." (Angel is their dog.)
yeah EXACTLY – I left her with Angel and put water out for both of them 🙂 https://t.co/mSyI1Xzffm

— Shay Mitchell (@shaymitch) October 30, 2019
The best response to mom-shaming is to double down on the alleged 'bad behaviour'. Go off, Shay.
Love Island's Danny has released his own statement about his breakup with Jourdan.
Yesterday, Jourdan said that she had tried to give Danny a chance but she wouldn't stand for "lack of respect, disloyalty and dishonesty" in a relationship.
There were reports that Danny had been talking to other girls behind Jourdan's back, with a source alleging that he spent nights "partying with loads of random women".
Putting his two cents in, Danny said: "I would like to express that I am honestly devastated that this relationship has come to an end and it is a huge shame that we couldn't make this work."
I would also like to make it crystal clear that I was 100% faithful to Jourdan, and this is genuinely not the reason why we have broken up, despite what has already been said… I absolutely take accountability for my actions. I wasn't perfect, I made mistakes which I'm sorry for.
"Jourdan gave it her all, so did I. Unfortunately things did work out. We're still very much civil," he continued. The drama of it all.
Sofia Richie is being dragged for sharing a seemingly insensitive post during the California wildfires. 
The state is currently battling multiple wildfires brought on by the strong, dry Santa Ana winds, with thousands of people forced to evacuate their homes and many more without power.
However, this caption from Sofia implies that the biggest concern she had was that the Santa Ana winds would mess up her hair:
People wasted no time in telling her that the caption was insensitive and 'tone deaf' – and really, if she'd said nothing about the Santa Ana winds at all no one would have cared.
Later that night, she posted a tribute to everyone affected by the fires: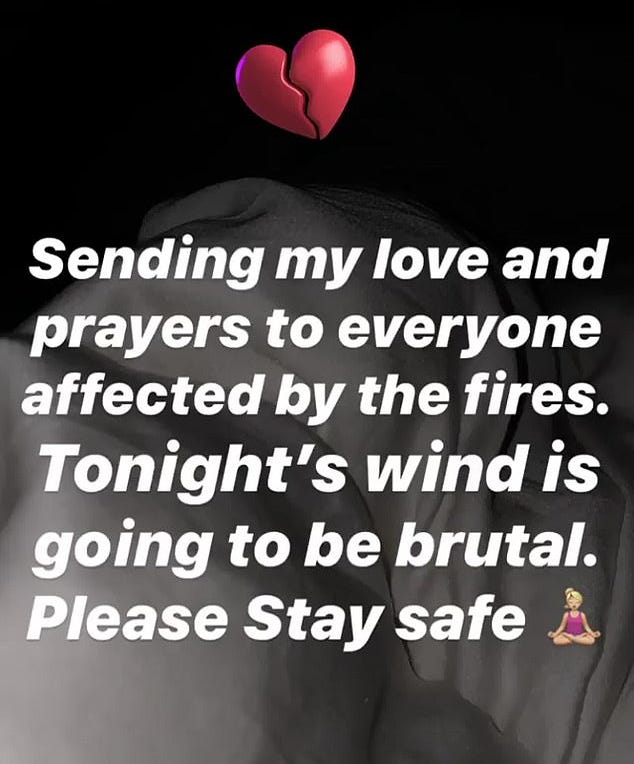 We are now back to 0 days without a public dragging.
Have your say
More like this