Insta Creep: Strictly's Seann And Katya Are Apologising For 'Drunkenly' Shifting On The Street…
What all the celebs are up to on social, from A to Z listers.
In our gossip column, we indulge our nosiest desires and delve deep into what the celebs (and 'celebs') are doing on social media. Who's tweeting and deleting? Who's shady faving? Let's find out.
Taylor Swift has given a little insight into her political leanings… after staying notably silent during the 2016 US Presidential elections.
Taylor caught a lot of flack for not revealing how she voted, even after it came to light that white nationalists look upon her as an 'Aryan goddess' – her team did release a statement denouncing the alt-right, but said Taylor had "no obligation" to air her political views.
However, in an Instagram post published last night she lent her support for two Democratic candidates in the upcoming November mid-term elections, and explained a bit about why she was silent over the past two years:
In the past I've been reluctant to publicly voice my political opinions, but due to several events in my life and in the world in the past two years, I feel very differently about that now. I always have and always will cast my vote based on which candidate will protect and fight for the human rights I believe we all deserve in this country. I believe in the fight for LGBTQ rights, and that any form of discrimination based on sexual orientation or gender is WRONG.
"I believe that the systemic racism we still see in this country towards people of colour is terrifying, sickening and prevalent," she continued, asking her followers in Tennessee not to support candidate who holds anti-woman and anti-LGBTQ views.
Well now. Of course, the conspiracy theorists have clocked that this announcement came just after her last US tour date, but… better late than never, right?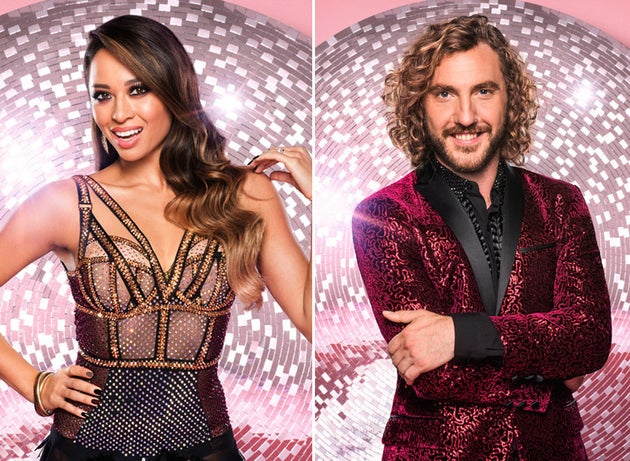 The Strictly Curse strikes again. Comedian Seann Walsh and his dance partner Katya Jones were papped kissing outside a pub – thing is, she's married and he has a long term girlfriend. Oh.
The pictures made the front pages of all the Sunday tabloids, and the pair have both tweeted apologies:
In light of the story in today's newspaper I would like to offer my sincere apologies for my actions. This is no excuse but it was a one-off drunken mistake which I am truly sorry for.

— Seann Walsh (@seannwalsh) October 7, 2018
I'm so sorry about any offence or hurt I may have caused with my actions. I wasn't thinking and it was a one-off mistake after some drinks. I love my husband and we are very happy together, this is not a reflection on our relationship.

— katya Jones (@Mrs_katjones) October 7, 2018
Yikes. Katya has been married to Strictly choreographer Neil Jones for five years, while Seann's girlfriend Rebecca Humphries was supporting him in the audience on the pre-recorded Sunday night results show.
Yesterday, she responded to a now-deleted tweet from author Marian Keyes that said: "His poor girlfriend".
Wanna be friends?

— Rebecca Humphries (@Beckshumps) October 7, 2018
Of COURSE. I'm so upset for you, I've been thinking about you all day xxxxxxxxxxxxxxxxxxxxxxxxx

— Mariaaaaarrrghhn Eeeeeeks ???? ? (@MarianKeyes) October 7, 2018
The 'Strictly Curse' has doomed many relationships, from Louise Redknapp's marriage dissolving in 2016, to Countdown's Rachel Riley, who split from her husband to date partner Pasha in 2013. Former Strictly pro Gleb professed not to believe in it until yesterday:
I didn't believe in the Strictly curse until today…

— GLEB SAVCHENKO (@Gleb_Savchenko) October 7, 2018
A source told the Telegraph that Katya and Seann will continue dancing together on the show as they do not have the option of switching partners. Awwwwksss.
Kourtney Kardashian has taken an Instagram commenter to task for DARING to insinuate that she doesn't work. 
Kourt posted some photos from a 'day away' with sister Kendall, leading people to wonder how you can need a day away when much of your life appears to be days away.
Well, she was not. Having. It.
Oh wait, my attorney's on the other line to discuss six business deals, I have a camera in my face filming season SIXTEEN of KUWTK (you may have heard of it) and I'm raising my three amazing children… god bless you and your worry about me.
It's a tough life, isn't it Kourtney? Working nine to five, slaving away for the man… oh wait.
And now it's time for… #WilloughbyWatch
Welcome to Insta Creep's regular segment #WilloughbyWatch, in which we explore the public's obsession with what Holly Willoughby wears on This Morning.
This morning on This Morning, Hol is taking a tried-and-true look of hers (midi skirt and top) and giving it an autumnal flair. It's even bringing out the wit in her commenters: "Love this. Brilliant colour scheme. Berry nice." Jaysus. They're gone wild in there.
Have your say
More like this