Insta Creep: Vogue Williams Clapped Back At A Follower Who Told Her To Get A Boob Job…
What all the celebs are up to on social, from A to Z listers.
In our gossip column, we indulge our nosiest desires and delve deep into what the celebs (and 'celebs') are doing on social media. Who's tweeting and deleting? Who's shady faving? Let's find out.
Vogue Williams has clapped back at a follower who told her to get a boob job. 
The presenter shared a DM she received that read: "Get a boob job Vogue. You have nothing there you'd look great." Mad that people think they can speak to strangers (or anyone, really) like this.
"Can you imagine saying this to someone? I'm happy with my zero boobs, actually happy with my body for the first time in years," Vogue wrote. "I guess that comes with age and not giving a shite what people say."
View this post on Instagram
In a follow up post this morning, she thanked people for their nice comments about her "pancakes", saying: "I guess it kinda hit a nerve mainly because it's always the thing I've been slagged about since I was young and I finally feel happy with my body and along comes someone telling me to get a boob job.
I don't think it's right to pass comment on anyone's appearance. There is too much of it going on, everyone's body is beautiful and unique. I'm over the days of wishing I looked like someone else or wishing I was a different size, the list goes on. I am happy just the way I am.
Dead right, Vogue.
Love Island's Jourdan Riane was caught lovely pretending that she and Danny Williams were flying first class. 
The couple flew to Thailand over the weekend for another nice holiday (we're allowed be bitter, they were in Ibiza like a week ago), and Jourdan posted a picture of herself standing in a first class cabin:
However, her followers quickly noted that the illusion had been ruined by Danny posting an Instagram Story from their real seats, which were… not first class. Maybe premium economy? Still.
Have you learned nothing from Lil Bow Wow? You must never imply you're flying first class or on a private jet or whatever. The internet will find you OUT.
James Charles leaked his own nudes after his account was hacked. 
The YouTuber was hacked on Friday along with fellow creator Shane Dawson, and decided to take matters into his own hands in case the perpetrator got a hold of anything personal.
So here's his ass:
hi I got my account back ? just case I ever get hacked again, here's the ONLY nude I've ever taken! can't threaten me with it now ??? get a life pic.twitter.com/8xT5lKFFDV

— James Charles (@jamescharles) August 24, 2019
Do we think that's really the 'ONLY' nude he's ever taken? No, not particularly. Is he using this hack as an opportunity to get even more attention? Yes, probably. But OK, we'll bite.
And finally, Scott Disick bought his child bride Sofia Richie an Aston Martin for her 21st birthday. 
The model showed off the gift on her Insta Stories, giving Scott (who at 36 is 15 years her senior) a "best bf award":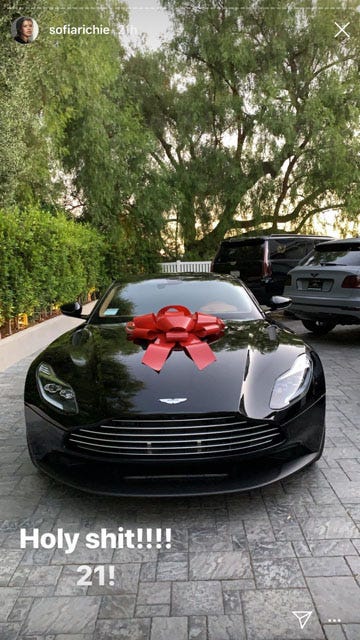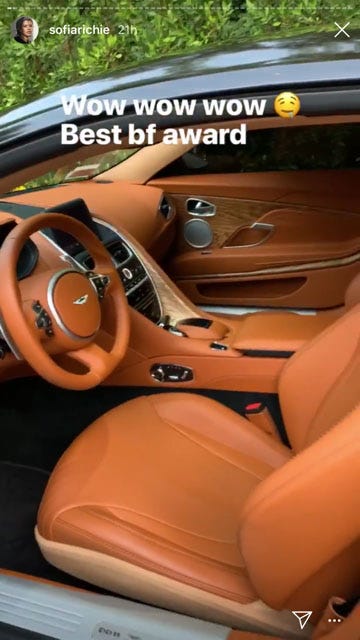 Sofia later hopped on a private jet to Las Vegas with BFF Kylie Jenner, where she celebrated her big day with a pool party at the Wynn Hotel and Casino.
We would just like to add that as of this morning, Scott has not posted anything about Sofia OR her birthday. An Aston Martin is cute and all but what about some LOVE, Scott? God.
Have your say
More like this