Insta Creep: What The Hell Is Kim Kardashian Ranting About On Twitter?!
What all the celebs are up to on social, from A to Z listers.
In our gossip column, we indulge our nosiest desires and delve deep into what the celebs (and 'celebs') are doing on social media. Who's tweeting and deleting? Who's shady faving? Let's find out.
What the hell is Kim Kardashian on about on Twitter? We're trying to get our heads around it TBH. 
In a string of tweets yesterday, she called out someone named Rhymefest for using Kanye's name to get ahead:
U haven't been right since u got kicked out of the studio in Hawaii wearing fake Yeezy's @RHYMEFEST ? You're over levergenging Kanye's name & asked Kanye to donate money to u so stop w your fake community politics & lies. Truth is you haven't been able to sustain the foundation

— Kim Kardashian West (@KimKardashian) May 26, 2018
Rhymefest is the Oscar-winning songwriter behind a few of Kanye's songs, including Jesus Walks – he also co-founded the charity Donda's House with him (it's named after Kanye's late mother).
He's accused Kanye of abandoning the charity, and asked Drake to take over his spot:
I'm asking @Drake to help the part of Chicago Kanye has Abandoned! Please contact @DondasHouse

— Rhymefest (@RHYMEFEST) May 26, 2018
So Kim BLEW UP at him, saying he was using Kanye's mother's name to spread negativity about Kanye, makes 'sub par beats' (burn), and that he was officially disinvited from appearing on Kanye's new album. She then clarified Kanye's involvement in the charity:
Kanye and Donda started a charity called Loop Dreams. When Donda passed, they changed the name to Donda's House. Kanye paid Rhymefest a salary to run it.

— Kim Kardashian West (@KimKardashian) May 27, 2018
After several years of lack of performance from the organization and Kanye going through personal financial issues, he could no longer fund salaries. Rhymefest asked to take it over and Kanye agreed with no financial strings attached.

— Kim Kardashian West (@KimKardashian) May 27, 2018
Kanye gave his "friend" an opportunity to run an organization on his own. So now that Kanye is being publicly shamed for not being involved makes no sense and, at this exact time, just seems very calculated.

— Kim Kardashian West (@KimKardashian) May 27, 2018
Rhymefest, for his part, released a statement asking Kim to come down and see the work Donda's House does before she 'destroys' it. Nevertheless, the charity announced that it's changing its name:
Please read the attached final statement regarding the future of @DondasHouse, effective immediately: @kanyewest & @KimKardashian. pic.twitter.com/aNVWbJ1h49

— Donda's House, Inc. (@DondasHouse) May 27, 2018
God. This is complicated.
Meanwhile, sister Khloe has hinted at her relationship status via greeting card, no less.
There have been conflicting reports on how much she's forgiven Tristan Thompson for cheating on her while she was pregnant – and while they're believed to be sharing a home in Cleveland, they don't seem to have patched things up completely.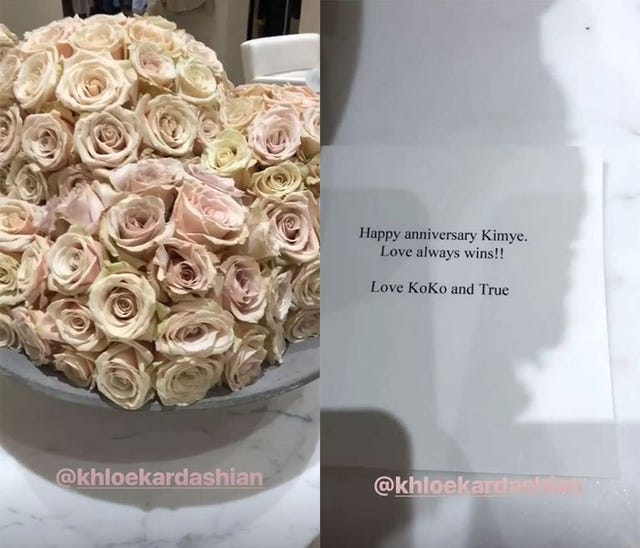 Khloe sent Kim and Kanye flowers to celebrate their fourth wedding anniversary, and the accompanying card read:
Happy anniversary Kimye, love always wins!! Love KoKo and True
No sign of Tristan there. *thinking man emoji*
Laura Whitmore has added her voice to the campaign to make 'upskirting' illegal.
The practice of paparazzi lying on the ground to take pictures up womens' skirts has been widely slammed by celebs – Holly Willoughby previously called out photographers for trying to do it to her at the Brit Awards.
In her piece for Hot Press last month, Laura said she had been targeted in the same way after Strictly:
I now worry: will a man put a camera under my skirt? How is this the world we live in? How is this legal? This wasn't walking down a red carpet; this was walking outside my home. Besides, I like wearing dresses. Why shouldn't I be able to wear them without feeling constantly on guard?
Now she's backing the UK bill to make it a sexual offence, which will be read next month:
Upskirting should be a criminal offence and not supported by our media outlets. It's is a violation of privacy and degrading of women

— Laura Whitmore (@thewhitmore) May 27, 2018
Good on you Laura.
And now it's time for… #WillougbyWatch
Welcome to Insta Creep's regular segment #WilloughbyWatch, in which we explore the public's obsession with what Holly Willoughby wears on This Morning.
Hols posted a picture of herself in a lacy cami to promote her new lifestyle brand, Truly, which appears to encompass fashion, travel, wellness and parenting. Intriguing. The tabloids were more concerned however with her "teasing her famous assets" and "stripping down to her underwear" which we can probably agree she's not doing? Anyway.
Have your say
More like this