Love Island's Amy Hart Is Asking Viewers To Treat The New Crop Of Contestants With Kindness
"Think how you'd feel if you read something about someone in your life."
Ahead of the new series of Love Island kicking off this weekend, past contestants and their families are asking viewers to think twice before posting nasty things about the new Islanders.
Amy Hart, who had quite the time of it on last year's series, said that she too had been guilty of forming opinions of about the contestants before she was on the show herself.
"We see about 45 minutes of a story about people living in a villa," she wrote on her Instagram Story.
Please before you jump on a bandwagon and tweet something nasty about one of the Islanders, remember, they won't see it. Their mum, dad, nan, grandad, brothers, sisters and friends will. Think how you'd feel if you read something about someone in your life.
"Before you send a death threat into someone's DMs, think how their best friend, sibling, or whoever it is running their account will feel reading that," she added. "Enjoy the series everyone and play nice."
Amy and her parents have also offered to chat to the friends and family of new Islanders, or the people running their social media accounts, to share what they know about the process.
Speaking from the other side of things, Molly-Mae Hague's sister Zoe talked about her experience running Molly's account while she was in the villa.
"Nothing you do will make a difference to the things you will read," she wrote. "All I can say is every time you go to search your loved one's name on Twitter, join a Love Island 'banter' group on Facebook or search for articles about them, please think twice, as it is possibly the worst thing to do."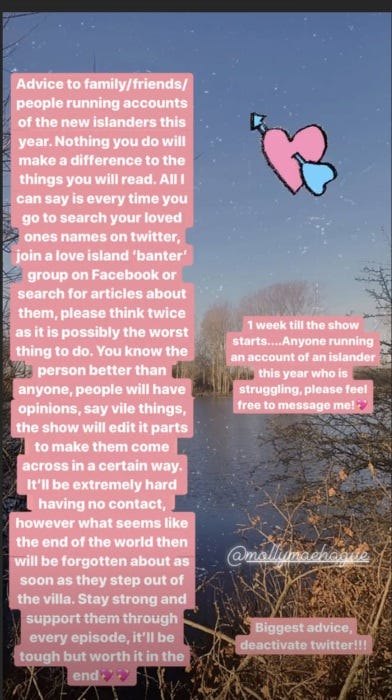 You know the person better than anyone, people will have opinions, say vile things, the show will edit parts to make them come across in a certain way. It'll be extremely hard having no contact, however what seems like the end of the world will soon be forgotten about when they step out of the villa.
More awareness than ever has been placed on the mental health of Love Islanders following the deaths of former contestants Mike Thalassitis and Sophie Gradon.
While ITV has new guidelines laying out their duty of care for contestants, it's up to us viewers to not make things worse. Think before you tweet.
Have your say
More like this