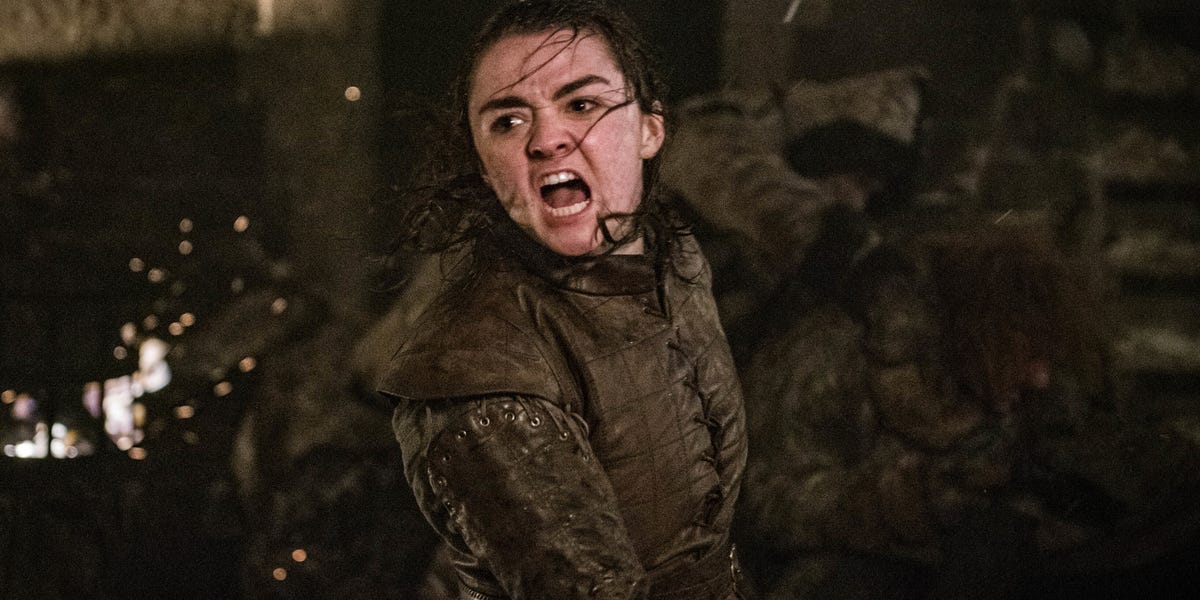 Well! Have we all recovered from the Battle of Winterfell? The show has been teasing the big battle against the White Walkers for a long time now, and watching Arya Stark kill the Night King to defeat the chilly zombies was satisfying as hell.
Having Arya do it was quite the twist, however – hunting the White Walkers has always been Jon Snow's thing, and you would have expected it to be him that dealt the final blow.
No one predicted it would be her, which is why people went absolutely APESHIT when she stuck the knife in:
If fans weren't already enamoured by Arya Stark's journey from an orphaned child to deadly assassin, they are now. (Apart from the usual few who can't BEAR that a woman got to do the job.)
But speaking to Entertainment Weekly after the episode aired, actress Maisie Williams said she was initially worried that fans wouldn't want her to be the one to defeat the big bad.
She even came up against her own boyfriend, telling the magazine: "The hardest thing in any series is when you build up a villain that's so impossible to defeat and then you defeat them."
It has to be intelligently done because otherwise people are like, "Well, they couldn't have been that bad when some 100-pound girl comes in and stabs him." And then I told my boyfriend and he was like, "Mmm, should be Jon though really, shouldn't it?"
NO Maisie Williams' boyfriend! You don't say that! You put aside your Game of Thrones opinions and you celebrate your girlfriend's huge career milestone!
A rallying cry of 'dump him' is now echoing around the internet:
For what it's worth, Game of Thrones showrunners David Benioff and DB Weiss say they've known that Arya would take out the Night King for about three years.
"We hope to kind of avoid the unexpected," Benioff explained on the GoT aftershow. "Jon Snow has always been the hero, the one who's been the saviour, but it just didn't seem right to us, for this moment." We think they made the correct choice. Do you?
Have your say
More like this