'Not A Baby' Hailey Bieber Shares Her Ovarian Cyst Struggle
"It's painful and achy and makes me feel nauseous."
Hailey Bieber has taken to Instagram to share her ongoing struggle with ovarian cysts.
The model shared that this isn't the first time she has experience cysts, and it makes her 'emotional'.
Hailey has shared the health update as she is tired of being plagued with pregnancy rumours, with many people speculating that she and Justin were expecting their first child.
View this post on Instagram
The model took to Instagram stories on Tuesday to put rumours that she's expecting to bed for once and for all, sharing that she has a cyst 'the size of an apple'.
She wrote:
"I don't have endometriosis or PCOS but I have gotten an ovarian cyst a few times and it's never fun. not a baby."
"It's painful and achy and makes me feel nauseous and bloated and crampy and emotional."
"anyways… I'm sure a lot of you can overly relate and understand. We got this."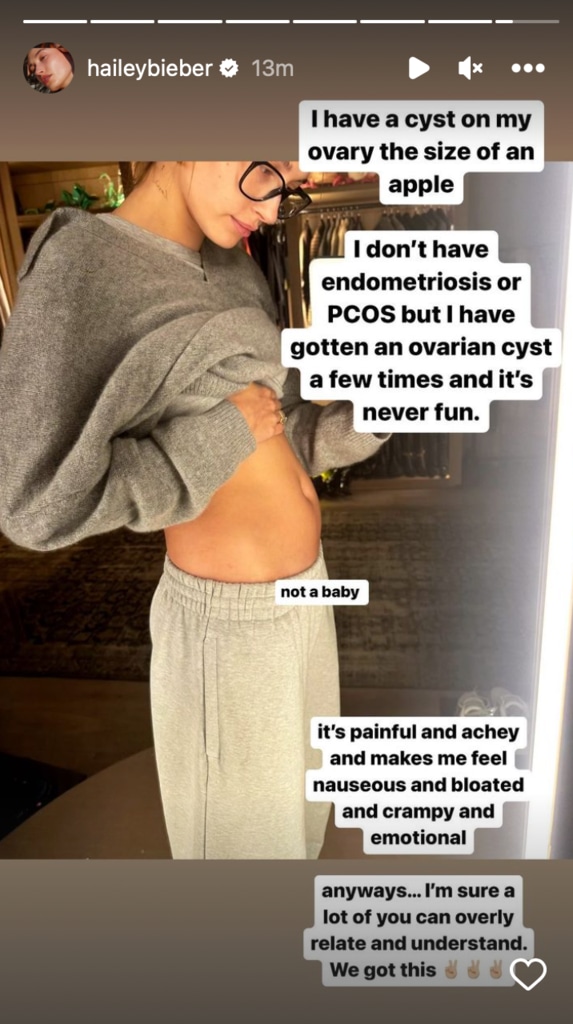 Ovarian cysts are quite common and are generally not cause for concern, but in some circumstances, they can present as more of an issue. They happen due to a hormonal imbalance in the body. In fact, former STELLAR writer, Denise Curtin shared her scary experience with a cyst here.
Hailey's revelation comes following a previous health scare earlier this year, when the model had a mini-stroke back in March.
This was followed by Justin being rushed to hospital with stroke-like symptoms soon after. He was later diagnosed with Ramsay Hunt syndrome, which is a complication of shingles and for him led to temporary facial paralysis, forcing him to cancel tour dates.
The couple has had a rough year in the health department, and we only hope their luck changes in the new year.
Written by Rebekah O'Reilly
Have your say
More like this