The 18 Greatest Reality Shows Of All Time
As chosen by STELLAR editor Vicki Notaro.

Queer Eye
The Fab Five are perhaps the most recent entry into the mix, with the Netflix revamp available for binge watching and taking reality TV to a whole new level. It's genuine, it's gleeful, the lads are as sharp as anything and as cute together, but again, it's the normal people being made over that give it true heart. Our fave.
America's Next Top Model
Definitely the best fashion-focused elimination game (although Project Runway comes a close second), Tyra Banks' model show has been syndicated and franchised the world over. The formula has stayed largely the same, and that's why it works. Challenge, shoot, judging. Simples.
RuPaul's Drag Race
Taking from the ANTM format but with its own twists, turns and lip syncing, Drag Race has really captured the mainstream imagination in recent years, leading to a rise in popularity for drag culture, OTT make-up and of course, creative miming routines to beat the band. Iconic.
I'm A Celeb
We love Strictly, Dancing On Ice is grand, and the Irish Dancing With The Stars is fun. But when it comes to celebrity challenge shows, we have to give the top honour to I'm A Celebrity, Get Me Out Of Here. The controlled torture of the rich and famous opened up a whole new genre, revived careers and made us love celebs we had no idea of before they trekked into the Aussie jungle.
Irish Popstars
English Popstars was good, giving us a taste of what was to come in the TV talent genre (and some great sing songs around pianos) but it was the Irish one that we all remember – particularly Nadine Coyle lying about her age and getting spectacularly booted out of Six. The band itself didn't set the world on fire, but we'll always remember their white outfits and awful dance routines.
The Simple Life
Paris Hilton and Nicole Richie's journey around America was one of the first big scripted reality shows there was, and paved the way for many, many more. Two rich posh chicas plonked in the middle of Wyoming farmland trying to earn an honest buck and learn the meaning of life? Yes please. See also MTV's Rich Girls, also pretty iconic.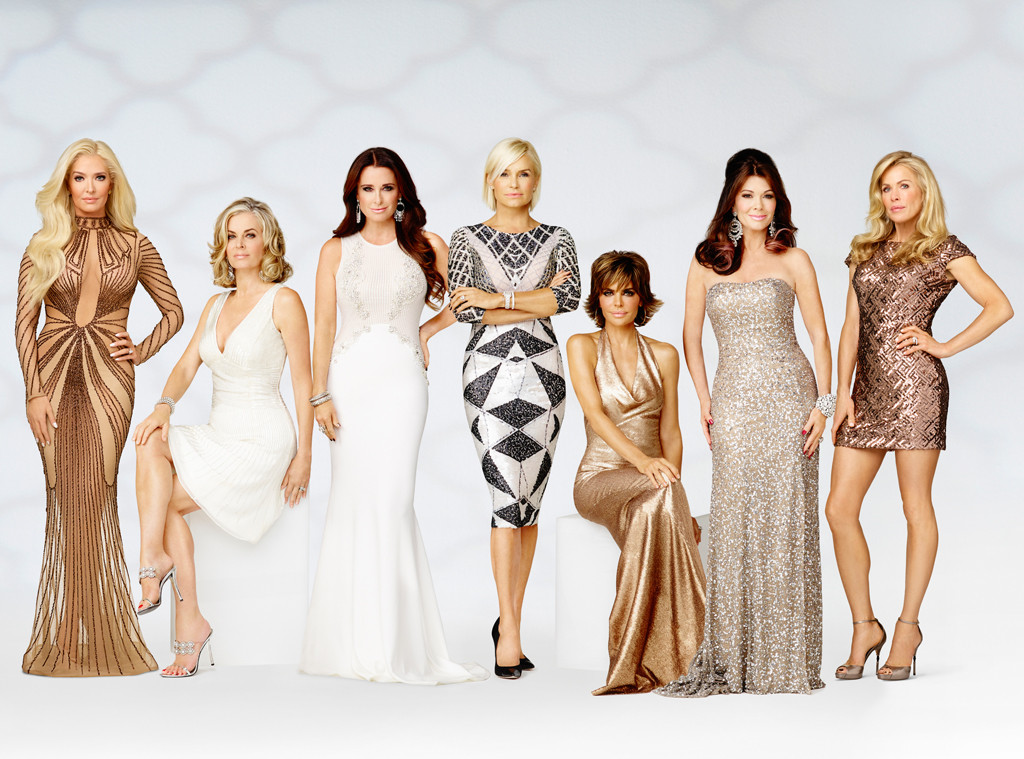 The Housewives
New York, New Jersey, Beverly Hills, Atlanta, er, Dublin – this is basically a show about bitchy rich women that work sometimes, but mostly go to lunch, go on holidays and have fights with all their frenemies. It's quite brilliant, and Lisa Vanderpump is the real MVP.
Newlyweds
Their marriage may not have endured, but our love for Jessica Simpson and Nick Lachey's MTV show sure has. She was the virginal pop star bride, he was the older, more experienced boy bander, and their wedding was supposed to be the height of romance. Until they moved in together and realised they were wholly incompatible on everything from money to sex. Jess' one liners ("Do buffalo wings come from buffalos?") have gone down in pop culture history.
Love Island
We were all addicted and rooting for Team Jani to the point where we wondered what we did with our damn lives all winter long. Why isn't there a captivating show about human behaviour on every night during the most dark and dreary months of the year? Other dating shows like Ex On The Beach try to compete, and there are some classics we'll always remember – like The Villa and Temptation Island – but Love Island is the clear winner in the competitive romance category.
Room To Improve
Could we forget Dermot? Of course not! Home improvement shows are hot everywhere, from the UK's Grand Designs to the USA's Flip Or Flop and Fixer Upper, but we've loved Room To Improve for ages. The Twitter craic on a Sunday night when it's on can't be beaten.
First Dates
On this one, we may have to concede that the British one is slightly more profesh, but all versions of the restaurant reality show are pretty brilliant. It's simple – match a couple on their likes and dislikes, send them on a first date in a high pressure environment involving eating, and filming them. Whether sparks y or Cupid falls on his face, it's always brilliant.
Big Brother
One of the originals, it sadly went downhill rather fast after becoming a pop culture phenomenon seemingly overnight. We think producers fiddled with the format too often and contestants rather shrewdly worked out what the public wanted, so it was best when it was pure and innocent near the start. Remember Nasty Nick? A pussycat in today's reality TV terms! The celeb version is still okay, but it may soon be scrapped and TBH, we still miss Davina.
The X Factor
We have to give special mention to Popstars: The Rivals, because it gave us Nadine's redemption, but it was Pop Idol that brought Louis Walsh and Simon Cowell into our lives and The X Factor that solidified that partnership along with Cheryl's diamond tears and Dannii Minogue and Sharon Osbourne's rivalry. There were several years (roughly 2008-2011) that you wouldn't go out on a Saturday night until after the results show. Simon compounded his talent genre with the introduction of his Got Talent shows, reproduced all over the world, but despite being fun, they're not so memorable.
Irish Gogglebox
Something we definitely do better than our counterparts across the channel (especially since the departure of the Moffats) is watching telly and being funny, as proved by our wonderful Goggleboxers. From Tracie and Anita to the Adenugas, the Louth lads to the Gruffertys, it's just lovely, hilarious, heartwarming TV, and long may it last! Oh, and let's not forget Kenneth the dog.
Teen Mom OG
We thought about Jersey and Geordie Shore in terms of modern MTV shows, then realised 16 and Pregnant was good, Teen Mom 2 is very good, but the OG is the er, OG. We've been following Maci, Amber, Catelynn and Farrah for nine years now (although Farrah is now out due to her work in the adult film industry) and watched their kids grow, families expand and drama unfold. From Ryan's drug addiction to Amber's prison sentence and Catelynn's heartbreaking struggle with her mental health, it's captivating TV.
The Hills
Laguna Beach came first and was brilliant, but The Hills was when Lauren Conrad really came into her own. We were rapt when she interned at Teen Vogue and didn't go to Paris, bereft when she lost Heidi to Spencer, and aghast at the famous "You know what you did" showdown. We all wanted to go to Les Deux, kiss Brody Jenner and wear chic bandanas with pearls and Chanel bags. Let us not forget our own iconic spin-off, the beloved and well missed Fade Street. And the English spin-off, TOWIE? Hmm, the less said about that…
Keeping Up With The Kardashians
The Osbournes may have been the first big hit family-oriented reality show, showing the warts
and all of a Hollywood dynasty, but KUWTK took that crown and ran with it. Multiple spin-offs, loads of weddings, so many babies, divorces, hair colours and lip injections, it's the gift that keeps on giving. Kris Jenner deserves credit and criticism in perhaps equal measure, but it's still addictive viewing, and often stranger than fiction.
The Great British Bake Off
Who'd have thought that a show about amateurs baking bread and cakes would take off as it has? Another reality phenomenon, its secret is its simplicity and focus on normal people who just feckin' love baking. The Irish version didn't take off , but the British one survived a tumultuous move from BBC One to Channel 4 last year, and it's still hella popular.
Have your say
More like this