The Best Christmas Episodes To Watch From Your Favourite Series
Tis the season to cosy up on the couch!
We're mere days away from the big day now, and while we're in full-on prep mode at the minute, we are finding some quiet moments here and there. 
And what better way to fill those than with a festive episode of one of your favourite shows? We've rounded up some of our personal favourite episodes for you to choose from.
Gilmore Girls, Season 2, episode 10: 'The Bracebridge Dinner'
Lorelai invites the locals of Stars Hollow to an elaborate feast at the Inn, which develops into a night of tell-all spills and flirtation, as Rory struggles to keep the rivalry between Jess and Dean at bay!
Friends
Season 5, Episode 10: "The One with the Inappropriate Sister"
Rachels discovers her boyfriend Danny's weird obsession with his sister, and Joey attempts to write a play that he can star in. This episode is equal parts festive and hilarious!
It's Always Sunny in Philadelphia, Season 6, Episode 13: A Very Sunny Christmas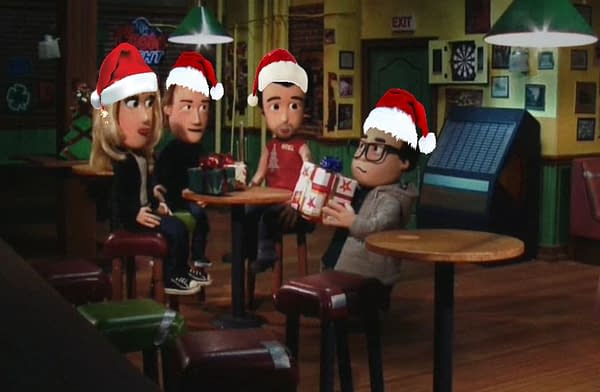 Dennis and Dee decide to teach Frank a lesson "A Christmas Carol"-style, while Mac and Charlie are shocked when they learn more about their childhood Christmas traditions!
The Simpsons Season 23, Episode 9: Holidays Of Futures Passed
Flash forward 30years to the future, and watch as Springfield because tech savvy and futuristic. Adult versions of Bart and Lisa spend the holidays at Marge and Homer's house, as we see how they turned out.
Black Mirror Season 2, Episode 4: "White Christmas"
A bit of a different take on a Christmas episode, Black Mirror's 'White Christmas' displays a futuristic world where three men tell tales of technology run amok during the Christmas season.
Written by Rebekah O'Reilly
Have your say
More like this