The Third Sex And The City Movie Would Have Reportedly Killed Off Mr. Big
Now we're kind of glad this fell through.
If you're a big fan of the Sex and the City franchise, you'll have been holding out hope for a third movie for quite some time now. However, this nugget of info might make you change your mind.
Allegedly, the plan for the movie was to kill off Mr. Big in the very beginning of the film. I know, it's traumatic.
In the podcast Origins, journalist James Andrew Miller discusses the iconic franchise, dedicating an entire episode to the films and how it ended. According to James, the plot of the proposed third film is part of the reason Kim Cattrall bowed out.
"People close to Kim believe the script for the movie didn't have a lot to offer the character of Samantha," he said in the podcast. Big reportedly died of a heart attack in the shower early in the film, christ, "making the remainder of the movie more about how Carrie recovers from Big's death than about the relationship between the four women."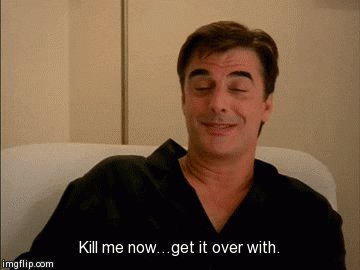 This sounds very sinister and not a storyline we think we'd be okay with.
Despite Kim's opinions, Sarah Jessica Parker said that they did negotiate with her for the movie, but it ultimately collapsed because the studio couldn't meet the demands she set.
"We negotiated in good faith," Sarah Jessica Parker said. "I e-mailed her, I tried to reach out to her and say like, 'We want you part of this. You're an integral part, of course you are. I hope when you read this script you'll see the beauty, the joy, the heartbreak in it that I see, that we have seen.'"
"But I can't force her to see it, but we did negotiate through the process and ultimately the studio said, 'We can't meet those asks of hers.' So then it's over, but that's not a character assassination, that's just the way business works."
Maybe Kim was right..
Have your say
More like this