Victoria Beckham Is Launching A Comedy Series On YouTube, Which Makes Sense Cos She's Gas
Seriously. VB is a ticket.
When Victoria Beckham announced she was starting a YouTube channel last year, many assumed she'd do the odd video showing off her fashion line or going behind the scenes at her catwalk shows.
What no one counted on was her starting a comedy series – but thinking about it, it makes complete sense.
The designer has reportedly hired a scriptwriter for a series called In The Chair with Victoria Beckham, which she teased on Instagram yesterday:
She's described the series being "like the Queen's speech, but longer and with me rather than the Queen", and says the YouTube community will appreciate her "really deep and multi-layered intellectual critique". LOL.
If Victoria Beckham doing comedy doesn't make sense to you, where have you been? VB has proved herself to be a gas bitch countless times over the years – she's extremely self aware, and isn't afraid to poke fun at her image.
In case you need proof, here are some of her finest comedic moments.
Every single minute of Spiceworld
But I'M VICTORIA MALCOLM in particular.
When she reflected on her best known looks with Vogue
"We're celebrating the rich and inspiring history of one of the most enduring style icons of all time. Me. Victoria Beckham."
When she got pulled over for speeding on her documentary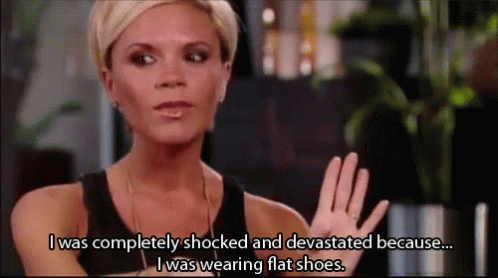 David Beckham signed with LA Galaxy in 2007 and the family moved to America, TV crew in tow. She was caught on camera getting pulled over for speeding, but her real worry was that she might be spotted in flats. Iconic.
When she referenced those 'too posh to push' headlines
Last minute preparations…who said I was too Posh to push???? x vb #SGFW #VBTour pic.twitter.com/IMXMmYQrRG

— Victoria Beckham (@victoriabeckham) May 17, 2015
And of course, when she got brutally honest about her talents as a singer
"I was never going to give Mariah Carey any competition," she told Marie Claire in 2010. Ah now Victoria, Out Of Your Mind is still a BANGER.
Have your say
More like this