Victoria Beckham Shares Birthday Post For Nicola Peltz-Beckham Despite Feud Rumours
And it's a grid post!
Victoria Beckham has shared a birthday tribute to her daughter-in-law Nicola Peltz-Beckham despite ongoing rumours of a feud between the pair.
Actress Nicola married David and Victoria Beckham's eldest son Brooklyn in April 2022 and rumours that she didn't *quite* get along with her new mother-in-law have been swirling in the press ever since.
But a new grid post from Victoria may be showing the public that the pair are absolutely fine.
The former Spice Girl shared a picture of herself and Nicola sitting at a counter both covering their mouths after what looks like enjoying a nice meal and a glass of wine.
View this post on Instagram

In the caption, Victoria wrote, "Happy Birthday @NicolaAnnePeltzBeckham 💗 Hope you have a lovely day!!! X"
Nicola replied with, "Thank you so much! 💖💖💖"
So, all good right?
Well, fans weren't so convinced as the comment section, with some pointing out that the picture was from quite a while ago as Nicola now has brunette hair and in the picture she has blonde hair. Although, Brooklyn and Nicola are based in LA which means they aren't close by to the family so it may just be a case of distance!
Brooklyn shared a heartfelt post for his wife on his story with the caption: "Happy early birthday to the woman that changed my life. I love you so much baby and I am so lucky to be able to wake up to your gorgeous face face every morning.
"Hope you have the most amazing birthday because you deserve the world."
Speaking to Variety about the alleged 'feud' last year, Nicola said that she believes that much of the rumours about their relationship stemmed from her not wearing a Victoria Beckham gown on her big day, instead opting for Valentino Couture.
"I was going to (wear a VB dress) and I really wanted to, and then a few months down the line, she realised that her atelier couldn't do it, so then I had to pick another dress," Nicola began.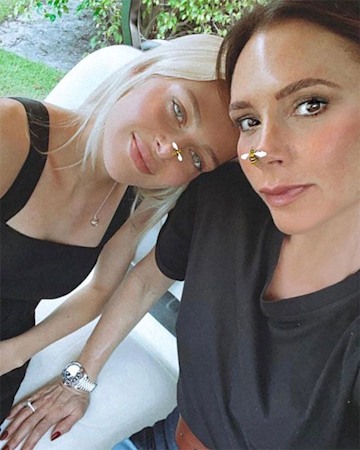 "She didn't say you can't wear it; I didn't say I didn't want to wear it. That's where it started, and then they ran with that."
Continuing on, Nicola's husband Brooklyn added to their conversation, letting readers know that all of the Peltz-Beckham family get along just fine.
"I've learned they're always going to try to write stuff like that. They're always going to try and put people down. But everyone gets along, which is good."
Brooklyn and Nicola spent the holidays away from Brooklyn's family, so hopefully we will see them all reunited soon to further shut down feud rumours!
Have your say
More like this