Happy 40th Birthday Kim K! A Look Back At Her Most Iconic KUWTK Moments
A homage to the queen of pop culture
View this post on Instagram
Well, here we are, October 21st, the day reality TV star legend Kim Kardashian West first entered the world. Celebrating her 40th year on this planet, Kim Kardashian, like the rest of us is truning another year older in the strangest of circumstances, with her 'Wild West' themed birthday party being cancelled due to the pandemic.
Taking to social media ahead of her big day to share an usual sans filter photograph, Kim and her gang (mins Kylie) seem to be enjoying some family time in the countryside – most likely in Wyoming where she and Kanye bought a ranch last year. And although we're sure Kim is enjoying her special day just fine, being inundated with birthday wishes, we thought we'd pay our respects to the queen of pop culture and take a look back at her most iconic TV moments.
From the earring incident to the infamous birth of the ugly crying face, she's provided us with many a lol over the years, so let's raise a glass to you, Kimmy!
When she took selfies while Khloe was en route to prison 
We'd heavy argue that Kim is the inventor of the selfie, if not the inventor then she certainly turned it into an art form anyway. Who could forget the time she couldn't stop posing in front of the (digital) camera, even while the chaos of Khloe going to jail over drink driving ensued around her. A true Queen never rests, Kris, you should know this.
The Bum X-Ray 
In Kim's early days, the humble public just could not believe how big her derriere was, and rumours of its authenticity soon began to circulate. Keen to prove nay-sayers wrong, Kim went to an actual doctor, to get an actual x-ray, of her actual arse, and turns out – it's real! She of course swiftly took a picture beside it, just for the haters xx
The crying face 
Did you know we now measure time as BCF and ACF – that's before crying face and after crying face. Yes, there was actually a time that we were entirely unaware that Kim's ugly crying face existed, but since its discovery in an early episode during a family cabin trip, life has been 1000x better. Now plastered all over things like phone cases and notebooks, Kim's ugly crying face is an award-worthy meme, and we wouldn't want it any other way.
Sinister Sally
Making that cabin retreat episode even more iconic, before unveiling her crying face, Kim walloped her mam, Kris's blackberry phone off the ground, in protest of her grabbing her own phone from her. Although mobiles were tougher than bricks back then, we're not sure Kris's phone withstood the bashing, and in a hair raising cutaway, Kim can be seen telling the camera that her mother got what she deserves *shudders*.
The diamond earring 
Most likely still sitting at the bottom of the Bora Bora ocean somewhere, in season 6 of KUWTK Kim lost a diamond earring having been thrown into the ocean by her ex-husband Kris Humphries. She immediately began to freak out, which to be fair to her, if we lost some jewelry worth $75,000, we probably would too, but as sister Kourtney said – there are people that are dying, so you know, could be worse.
When she did a really 'amazing' job 
Now, mom Kris can probably be held more responsible for this one. But, without Kim, there would be no momager, so credit where credits due. During Kim's playboy shoot, Kris can be seen taking pictures of her half-naked daughter, telling her that's she's an 'amazing' job, an iconic line still muttered regularly over a decade later.
The bag bashing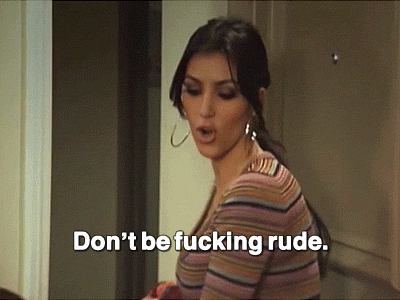 Who could forget the time when Kim walloped sister Khloe in the head with her handbag?! After overhearing her siblings giving our about her, Kim burst into the room to giving her sister a hiding and let them know to not be so 'f**king rude', a sentiment we should all live by.
Have your say
More like this