So Many Celebrities Fell For A Fake AF Instagram Privacy Hoax Last Night
"Don't forget tomorrow starts the new Instagram rule where they can use your photos!" Eh, no.
Scrolling through Instagram last night, you might have wondered why every second celebrity was sharing one of those social media hoaxes your mother might repost on Facebook.
"Don't forget tomorrow starts the new Instagram rule where they can use your photos. Don't forget deadline today!!!" the message shrieked.
It can be used in court cases in litigation against you. Everything you've ever posted becomes public from today even messages that have been deleted or the photos not allowed. It costs nothing for a simple copy and paste, better safe than sorry.
The more internet-savvy of us can see straight away that this is poorly-written, scaremongering BS (remember those 'send this to ten friends or you will DIE' chain messages?), but it spread like wildfire last night.
A rake of celebrities including Niall Horan, P!nk, Usher, Julianne Moore, Audrina Lima, Taraji P Henson, Rob Lowe and Julia Actual Roberts reposted it, and encouraged others to do the same.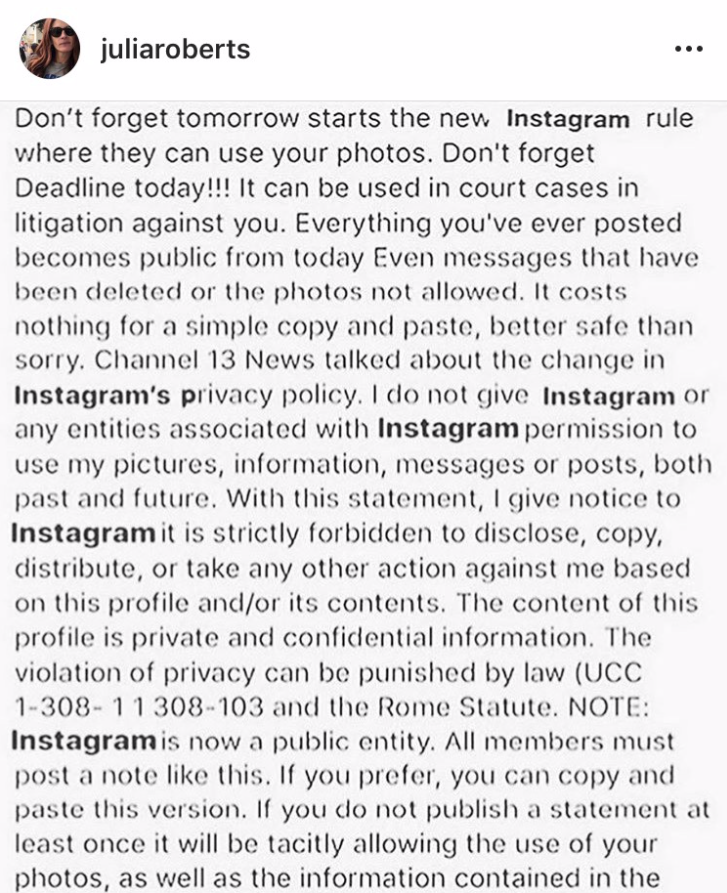 This hoax is as old as the hills, first appearing on Facebook in 2012 and popping up again several times over the years, even after the company debunked it in their Help Centre in 2016.
"You may have seen a post telling you to copy and paste a notice to retain control over things you share on Facebook," a spokesperson said. "Don't believe it. You own your content and can control how it is shared through your privacy settings."
This particular iteration of the hoax is clearly doctored, with the word 'Instagram' in a totally different font to the rest of the message, getting larger as it goes along.
It also doesn't seem like anyone who reposted it stopped to think about how sharing this block of text would exempt them from a change in Instagram's Terms of Service.
If that doesn't convince you it's a fake, maybe this statement from Instagram will: "There's no truth to this post."
Whoever started the ball rolling must be pretty pleased with how it's taken off – even the US Secretary of Energy, Rick Perry, posted it on his Instagram account.
this dude oversees our nuclear program https://t.co/DqGbR8pZRp

— Ryan Mac ? (@RMac18) August 21, 2019
Tale as old as time, tune as old as song.
Have your say
More like this