Insta Creep: Blake Lively Completely Lost The Head When Baby Spice Commented On Her Pic…
What all the celebs are up to on social, from A to Z listers.
In our gossip column, we indulge our nosiest desires and delve deep into what the celebs (and 'celebs') are doing on social media. Who's tweeting and deleting? Who's shady faving? Let's find out.
Blake Lively took a trip down memory lane over the weekend to remember her days as a Spice Girls superfan… and got the attention of Baby Spice herself.
Blake posted a picture of herself at a Spice Girls concert in 1997 wearing full Baby Spice regalia: platform runners, pigtails, a choker, and a baby blue dress with marabou trim. Her look was so on point that another young fan was convinced she was actually Emma Bunton:
Blake got the shock of her life when the real Emma Bunton commented under her picture telling her she was "rocking those pigtails":
I'm officially *skull and crossbones emoji*. Forever bowing down to you. I cannot believe you know who I am. This will never be normal.
Nice to know you're never too famous for a fangirl moment.
YouTuber Alfie Deyes is in the shit (again) for posting a photo of himself sitting on an AIDs memorial while attending Brighton Pride. 
In June, Alfie caused controversy with a video in which he tried to live for a day on £1 – but still went to his personal trainer, drives his car, and complains about having to drink tap water.
While he says he didn't realise it was a memorial and deleted the photo once fans drew his attention to the gaffe, this now-deleted tweet seems to imply the message didn't really sink in: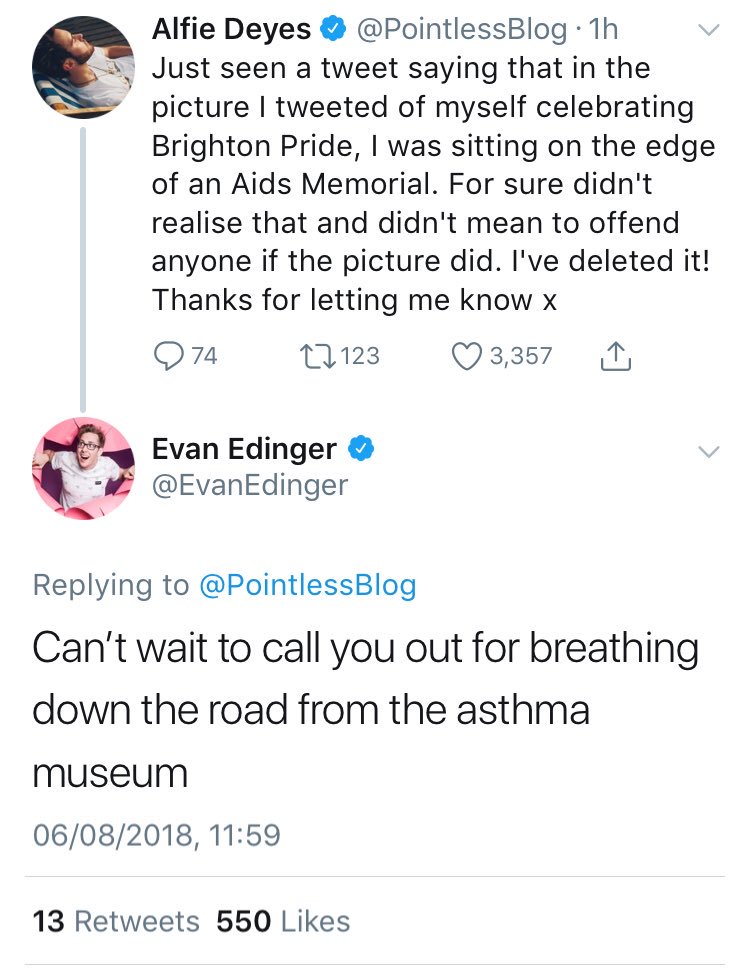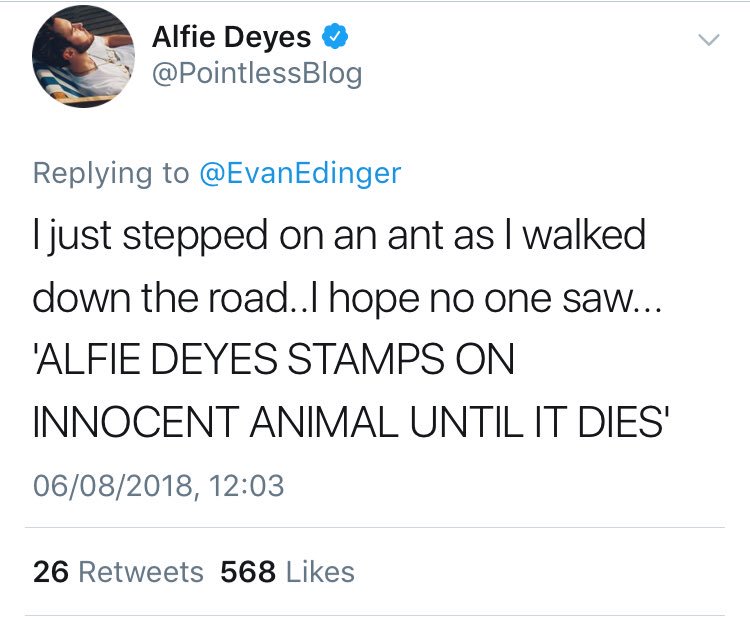 It's all well and good to have fun at Pride, but have a BIT of respect.
Love Island's Megan has cancelled all upcoming appearances for 'personal reasons', hinting that she's been struggling with media attention since leaving the villa.
Megan worked as a stripper and a glamour model before her stint on Love Island – she was open about it from the beginning, but admitted to Wes that she feared his family would judge her.
In a post on Instagram, she wrote:
I support all women, regardless of the choices they make about what they do with their bodies. It's 2018 and it's time we stopped allowing the vilification of women in the media. I won't allow stories like these to stop me from being a free-thinking, confident, independent young woman striving to make a better life for myself and my family.
She and Wes appear to be going strong, and plan to move in together in Essex. That's good at least.
Have your say
More like this