Insta Creep: The Never-Ending Nicki Minaj/Cardi B Feud Kicked Off All Over Again Last Night…
What all the celebs are up to on social, from A to Z listers.
In our gossip column, we indulge our nosiest desires and delve deep into what the celebs (and 'celebs') are doing on social media. Who's tweeting and deleting? Who's shady faving? Let's find out.
Let us attempt to wade into the latest Cardi B/Nicki Minaj mess. God, there's so much of it. 
In the latest episode of her Queen Radio show, Nicki said she'd pay $100k to see CCTV footage of her fight with Cardi at New York Fashion Week – she said her friend "beat Cardi's ass bad", and I guess wants to review the footage and laugh?
Cardi hit back with not one but TEN Instagram videos, asking why she would lie about the fight when there's so much footage of the night.
How you say that I was the wild animal? That I attacked you? Playing the victim? But now you the gangsta. You gotta pick a side… You lie so much you can't even keep up with your fucking lies.
Cardi also alleged that Little Mix wanted her over Nicki to be the featured artist on their new single, but she turned them down – Little Mix shot back with text receipts (scroll to see):
This post was liked by frequent Nicki collaborator Ariana Grande:
ARIANA IS TEAM NICKI AND LITTLE MIX y'all are found dead pic.twitter.com/exASxzBPzZ

— SteveBucky (@pxrrielegend) October 30, 2018
Nicki then had the balls to ask her fans to "focus on positive things" instead of the beef with Cardi, and that she won't be discussing it any more. Nicki! You brought it up again!
Ok you guys, let's focus on positive things only from here on out. We're all so blessed. I know this stuff is entertaining & funny to a lot of people but I won't be discussing this nonsense anymore. Thank you for the support & encouragement year after year. Love you. ♥️

— QUEEN (@NICKIMINAJ) October 30, 2018
Ah, we're exhausted. It's like school. We need a teacher to come in and break these two up.
Typical. You wait ages for a Love Island wedding, then they all come along at once.
Jess Shears and Dom Lever, who met on the 2017 season of the show, married in an intimate ceremony in Mykonos last week with 22 of their nearest and dearest present – but don't worry, OK Magazine still got all the photos.
They're the second couple to marry after meeting in the villa, with 2016's Alex Bowen and Olivia Buckland tying the knot last month.
You might remember that Jess and Dom previously got 'married' live on Good Morning Britain, wearing a bikini and swimming trunks respectively. Good to see they made things official.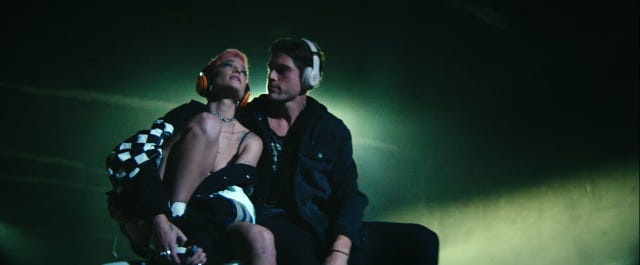 Halsey's new music video is a not-so-thinly-veiled comment on her recently ended relationship with rapper G-Eazy.
In the video for Without Me, Halsey plays a woman in an abusive relationship with an alcoholic – and the actor portraying her boyfriend looks suspiciously like old Gerald (that's G-Eazy's real name. GERALD).
Writing on Instagram, Halsey said that the video was "a reflection of a combination of relationships" she'd been in, and a reminder that "you deserve more".
It's okay to not want to be taken advantage of. By your partners, your friends, your family. You deserve happiness. Don't be afraid of going and finding it.
We guess they're not getting back together this time.
And now it's time for… #WilloughbyWatch
Welcome to Insta Creep's regular segment #WilloughbyWatch, in which we explore the public's obsession with what Holly Willoughby wears on This Morning.
The Pride of Britain Awards were last night (so technically we're not covering what she's wearing on This Morning, sue us) and Holly wore an ethereal Jenny Packham gown that's being roundly praised – we had to go to the fan accounts for pics, cos all Holly wanted to post were pics of her twirling:
"Every little princess' dream come true," wrote one appreciative commenter. And we suppose they're right. If a grown woman can't don a princess dress and twirl, then what can she do.
Have your say
More like this